Dorine
In the span of about 8 weeks, Vicki has seamlessly taken me from dreading the thought of exercise to looking forward to the next session and exercising at home too. Her friendly manner and professional approach together with great human insight have given me new possibilities for my body. Furthermore, her personal understanding of pelvic floor issues has meant a markable improvement in toning my pelvic floor. I have experienced other Personal Trainers in my life and from my experience, Vicki stands head and shoulders above the rest. I have no reservations in wholeheartedly recommending Vicki as your Personal Trainer. - Dorine (Life Energy, June 2014).
Adele
After two children and two surgeries my body was not my own and I felt very weak and quite afraid to take on new exercise, other than gentle walking. I have always been reasonably fit and healthy and I found this extremely frustrating.
After seeing a physio (Maree Frost) who recommended Vicki I decided to go for it and try her eight week training course.
The course built up over the eight weeks and allowed me to increase in strength and skill as time went on. Vicki adapted each exercise to my ability and I felt safe and quite comfortable continuing her programme at home. She also took into account the equipment I had at home meaning I could continue her exercise programme easily. On top of this, Vicki is very approachable and easy to chat with. I felt happy emailing and calling her with any queries throughout the week.
Now eight weeks later I feel I can continue exercising on my own. I am stronger, happier and I feel like me again! - Adele, 34 yrs, mother of 2 (2015)
Lynn
Finally I've found a trainer that 'gets me'! Working in the bodywork industry myself, my own body has taken a hammering in an effort to serve my clients. Vicki can see my potential but at the same time recognises my limitations in the moment. She has catered plans to suit my injuries, daily happenings, and busy life! I no longer feel I have to do exercise to please the trainer - I do them to please me, as I see the positive results. - Lynn, 50 yrs old, massage therapist, mum of one (2015)
Sarah
"I started seeing Vicki at a time in my life where I was juggling various priorities and struggling to find time to look after myself and my health. With Vicki's expertise, encouragement and motivation each week I have been able to take control of my health and fitness and am feeling great! Thanks Vicki I couldn't have done it without you!" – Sarah Barrow (2014)
Rach
I"I have been training with Vicki for the last 3 months and right from the beginning she has pushed, encouraged and mended me. Vicki is very zealous about what she does and focuses on your mind, body and spirit. She is always full of encouragement, thoughtfulness and gratitude and pushes me to my limits. I am injury prone but Vicki has kept me focussed by creating personalised work outs to focus on other areas of my body. Vicki uses a range of equipment in her studio and my favourites include the boxing gear and the gym stick. On lovely days it is great when Vicki fills up her backpack and we go down to Hagley Park for our sessions. Vicki has helped me to achieve
my goals, change my appearance and truly believe in myself. I love training
with Vicki because she personalises my sessions, answers any of my
questions, provides nutritional support and gives 100%." – Rach (2014)
Jenny
Just done day 1 on my eight week exercise plan. I really liked the way Vicki explained things, excellent……Good for my brain too I think as I really need to concentrate. Looking forward to seeing some improvement over time. Well done Vicki on creating a great video, I'm pleased I joined up - Jenny, 52 yrs old (2015)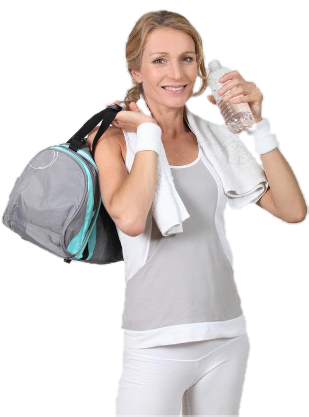 Anonymous
I have just completed an 8 week course with Vicki to attend to my pelvic floor dysfunction. At age 50 and after one child 15 years ago, it had taken its toll. I have a very active sporting life and was constantly looking for the next toilet in my running events. Initially I found it very hard to focus on the muscles, but once I got the idea I found it very easy. Vicki was very good with her explanations, using layman terms and not more correct medical names, which nobody knows what they mean!
She was very personable and friendly and helpful. She even tailored the exercises to match my training regime for the Coast to Coast. I am very grateful for the training and wished I had done it a lot sooner. It is a discipline, but like anything that's worth doing, it's worth doing properly.
Olivia
If you put the work in results will happen. I now automatically engage my pelvic floor and TA* whenever
I pick my son or anything up just from doing my exercises regularly! Vicki is really kind, friendly & supportive. Please
do this for your mental & emotional well-being. I'm a better mum for it.
-Olivia, new mum, 28 (*Transverse Abdominals)
Hi Vicki,
A small testimonial from me to say 'thanks'
A big shout out and thank you to Vicki for sharing her knowledge on the Pelvic Floor.
As a Personal Trainer and Group Fitness Instructor being reminded to incorporate exercises to strengthen this muscle has been very beneficial to my clients and participants with positive feedback and the want to keep them in practice.
Kind regards Michelle Brand